Raw Food TV - Click to see

Blog Archive
Add me on Facebook

Saturday, April 30, 2011
If you are vegetarian visiting Denmark you can easily find something to eat. Even beeing a carnivore friendly country there are many veggie options available.
The standard Danish diet consists of a lot of meat and fish but many restaurants do offer vegetarian alternatives on their menus.
Recently several Raw Food restaurants opened in Copenhagen and there is an interesting choice of dishes to choose from.
There are plenty of shops and supermarkets selling all types of fruit, seeds, etc, and prices are quite reasonable, most have organic choices, look for products with the word økologiske

.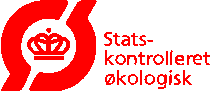 s
The Ø-markThe Danish organic label
The most common organic label in Denmark is the so-called Ø-mark (Organic is called Økologisk in Danish). This label is governmental and was introduced on the market already in 1990. All Danish consumers know it and for organic products it is an advantage to have this label on the packing.

The EU organic label
The Ø-mark is not exclusively for Danish produced products. Also imported products can be labelled with the Ø-mark but only importing or manufacturing companies certified by the Danish government can put the label on the package.
So organic products exported to Denmark need a packing or labelling process in Denmark if the Ø-mark should be on the product.
In the last few years the EU organic label has become more common - often used together with the Ø-mark. More and more imported products are sold in Danish supermarkets only with the EU label. For products that are not genuine produced in Denmark (like bananas, citrus fruits) the consumers are slowly getting used to see the EU label instead of the Ø-mark.
No other organic labels are commonly known by Danish consumers although many products have supplementary labels. Among the most common are Soil Association, KRAV, SKAL and Debio.
Organic products exported to Denmark only need to satisfy the EU regulations on organic agriculture. Note however that Danish supermarkets prefere products living up to the Danish organic consumers demands. It means that nitrate (E250) is not accepted to conserve processed meat products. Also organic fruits produced without the use of copper are prefered.
For Breakfast in many Danish hotels there is a buffet and there are several choices to avoid meat. A large variety of bread and cheese, as well as healthier options such as yoghurt, muesli, cereal and fruit. The Danish pastries, or weinerbrød sell Danish brown bread and that is quite a healthy option. Danish cheeses are also delicious and some can be quite strong if you eat dairy.
For the lunch and dinner meals, avoid traditional Danish cuisine (even most traditional salads usually contain meat or fish). Turkish shawarma and kebab houses are plentiful and extremely popular among the Danes for a quick and inexpensive meal. While it may seem strange to advise a vegetarian to eat at a kebab shop, these restaurants generally serve a variety of vegetarian options. Hummus, tzatziki and tabbouleh are usually available and are freshly prepared. You can also opt for Falafel kebabs and sandwiches.
For dinner, there are choices available apart from traditional Danish restaurants. It is not too difficult to find a restaurant that caters to vegetarians. The restaurant Riz Raz, for example, serves an all vegetarian lunch and dinner buffet for a reasonable price by Danish standards. Riz Raz has two locations in Copenhagen and also serves a la carte meals (including meat dishes) along with the buffet, which offers a large variety of tempting dishes for the vegetarian and omnivore alike. Ankara, a Turkish restaurant, serves a buffet including many vegetarian dishes.
Asian and other foreign food have been well accepted by the Danes, which is good news for vegetarians. Thai restaurants, most of them serve vegetarian dishes. Indian restaurants, these too, usually offer at least one vegetarian choice on the menu. Other popular restaurants include Italian, French and Greek restaurants, although you should check the menu beforehand to see if they are veggie-friendly.
For a list of the main Vegan and Vegetarian friendly rests consult our special page
Sources:
-
MacMillan, Beth
- How to Survive in Denmark as a Vegetarian
- Published
Mar 19, 2010 - Visited April 30, 2011
-
Organic label in Denmark - Introduction to the Danish organic market
- Visited April 30, 2011